Banqer Primary
features
A financial education platform for the 21st century, Banqer covers a range of critical life skills.

Make learning fun with videos, quizzes and simulated events that build knowledge through experiential learning.
What your students
will learn
With our online simulation and supporting resources, your students will explore a range of essential financial concepts from income to banking, property to KiwiSaver.
Basic Income
Students are introduced to the concepts of earning income, and charitable giving.
Expenses
Students are introduced to regular financial responsibility through weekly expenses, learning about money management and the difference between needs versus wants.
Careers and Employment
Students get a taste of what it's like to be employed, learn about CVs, apply for classroom jobs and appreciate the responsibility of a paid job.
Banking
Students will explore what it means to have a bank account, including overdrafts, debt management, and the benefits and consequences of their management choices.
Interest on Savings
Students will explore how money in a savings account can earn interest, learning the power of regular contributions and compound interest.
Term Deposits
Students will gain an increased comprehension of interest, while improving their money management skills, developing the ability to lock away funds for a period of time.
Credit reporting
Students will understand what a credit score is, how their habits affect their credit report and the impact of a credit score on financial goals.
KiwiSaver
Students are introduced to the concept of retirement funds, contributions, and the process of planning and saving for retirement.
Tax
Students are introduced to tax, as well as tax brackets and rates, learning how tax is calculated, deducted and used in the real world.
Property
Students are introduced to the property market, mortgages, deposits, rental income, and property expenses.
Insurance
Students are introduced to different types of insurance, premiums and claims, learning how to identify risk and the benefits of being covered (or the consequences of not!)
Transport
Students investigate purchasing and selling private transport like scooters, bikes and cars, and how various transport options affect budget management.
Capturing your students' attention is easy with Banqer Primary. We simulate real life events, like earning salaries for doing class jobs and buying your first car, to keep students coming back.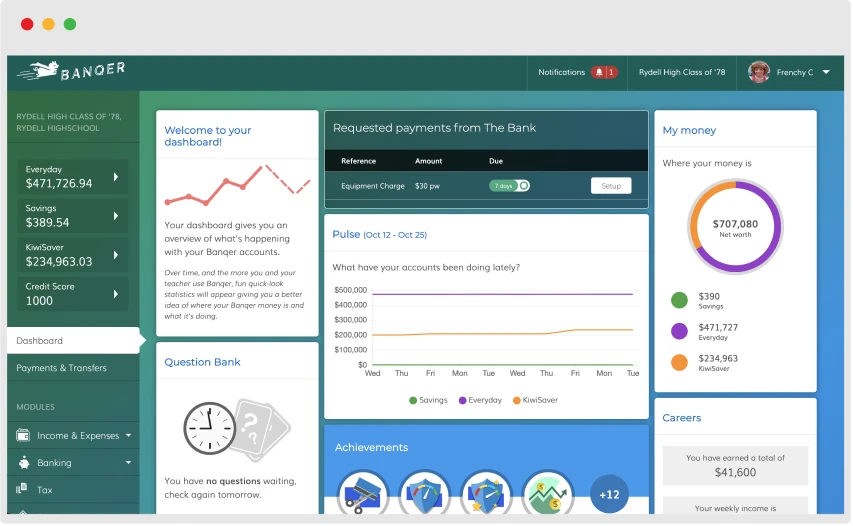 Our student videos make financial concepts accessible to different learning styles.
Learning is enhanced with pre-prepared group activities where students can apply their knowledge in fun ways. Innovative ideas for bringing Banqer alive in the classroom are also shared on our Banqer Primary community.
Motivate and incentivise
your students
Banqer comes with an inbuilt incentive system for use in your learning environment.
Motivate your students to complete classwork or positively reinforce behaviour you want to see with Banqer dollars. Students can then exchange these for rewards in the classrooms, or use them to purchase transport or property straight from their dashboards. They can even donate to a charity of their choice within the platform.
Still have questions on how Banqer Primary works?
A few common questions that schools have when deciding how to get started with Banqer Primary. To see all of these head over to our FAQs page.
What Year Levels is Banqer Primary aimed at?

Banqer Primary is designed for Years 3-8 and is most often used from Year 5.
What subjects does Banqer align with?

Banqer aligns with various subjects, and we've provided a bunch of resources to help you with this. Head over to our curriculum page to learn more.
How much does Banqer Primary cost?

Thanks to the generous support of our Champion Partner Kiwibank, Banqer Primary is free for New Zealand primary and intermediate schools.